South Bismarck Watershed
Stormwater Model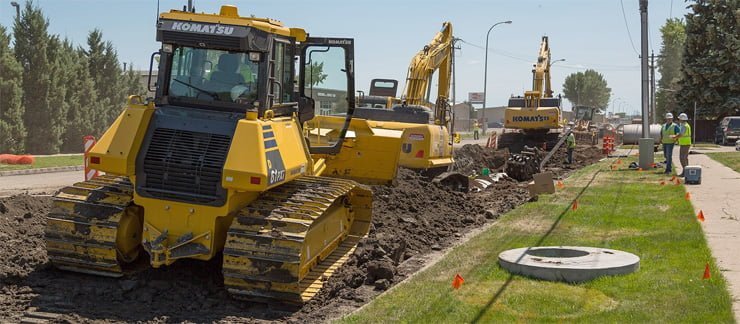 The City of Bismarck retained Apex to update the South Bismarck watershed stormwater model. Apex completed the stormwater model update and Preliminary Engineering Report, which provides a hydraulic backbone of the system, methodology, and the basis for analyzing drainage within the watershed. The watershed modeling project was completed in 2016, and one of the recommended improvements along the South 12th Street corridor, was designed and is currently under construction.
The project began with a Preliminary Engineering Report focusing on the south Bismarck watershed which included modeling, methodology, hydrologic and hydraulic computations, design flows and recommended improvements, as approximately one-third of Bismarck is located in the watershed. Apex developed an InfoSWMM model of the 3,570-acre watershed to provide the City and its constituents with the benefit of a dynamic stormwater management model, including structures and detention ponds. The City of Bismarck's GIS was used as background data within the InfoSWMM model to provide a to-scale model of the watershed. Apex successfully calibrated the base model against a major rain event.
The project needs focused on frequent flooding problems on South 12th Street/Bismarck Expressway and was expanded to include additional areas in South Bismarck from Bowen Avenue to Bismarck Expressway near the Bismarck Event Center. Inundation mapping proved to be a very effective visual tool, providing easy-to-understand images for the City and the public.
In addition to the stormwater model, the City opted to adjust the scope of the project to include the reconstruction of South 12th Street. This improvement crossed two major corridors in Bismarck – Expressway Avenue and University Drive – requiring Apex to focus on traffic control solutions throughout the construction process. This expansion, while fiscally responsible for the City, added a layer of coordination. In addition to Apex's water resources engineering, the transportation group was enlisted to assist in the design and traffic control.
A large component of this project was to address the needs of impacted stakeholders. South Bismarck has seen significant flooding due to large rain events, causing residents to call for action by the City. Prior to design, Apex and the City hosted a public input meeting to field questions from residents. Valuable public feedback was included in the final design of stormwater improvement facilities.
Water Resources
Urban Stormwater Modeling